Mark Tesmer (Lead Guitar and Background Vocals): Born and raised in Chicago, Illinois with musical influences in Blues and Rock, Mark has played in several bands over the past twenty years. He has entertained audiences throughout the Midwest. Mark is an accomplished guitarist/songwriter that plays country music with the conviction of greats like Eric Clapton, Buddy Guy and Stevie Ray Vaughn. Mark, his wife Lisa and their three sons live in Liberty Township.
Charlie Moreno (Bass and Background Vocals): Born and raised in California, Charlie also comes from a musical family as his mother and father met playing together in a rock band. Inspired by his mother's musical talents, and his love of music, he began playing cello in 4th grade and taught himself to play bass guitar. Over the past 36 years, he's dedicated himself to the bass, playing in professional bands from jazz, to R&B/Funk and all types of rock, and now country.

Chris Gilbert (Drums & Master of the Tempo!): Born in Middletown, Ohio, Chris has played drums since he was in 5th grade. He has been in various bands including marching band, orchestras, show bands, country bands, big bands, church bands and rock bands. He put the drums away when his family started growing in the 1990's, only to pull them back out a few years ago. Chris has been rocking with local bands.
Chris Gilbert
Drums, Percussion
Wes Green (Lead Vocals, Acoustic/Electric Guitar, Harmonica and Background Vocals): A native of South Texas, Wes grew up in a musical family immersed in country and western, gospel and southern rock influences. He started playing saxophone in middle school and taught himself to play the guitar at age 26. Throughout his ongoing career in the United States Air Force he has played in bands in Nebraska, Washington state and the United Arab Emirates.

Dwayne Russell (Keyboard and Guitar): After being born in Grants, New Mexico, Dwayne moved to rural WV where he was introduced to the love of guitar by his grandmother. His love for music began in church and continued well into his adult life and has played many shows in the greater Dayton/Cincinnati areas. A few of his musical influences as a child were Merle Haggard, Ricky Skaggs, Little River Band and Lynyrd Skynyrd. Lately, he enjoys Tyler Childers, Cody Jinks and Lee Brice. He recently graduated college and became a registered technologist in Neuro-diagnostics.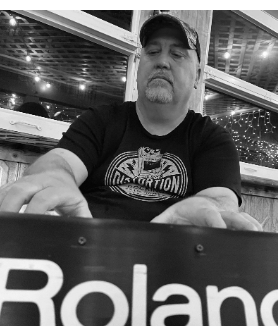 Dwayne Russell
Keyboards

,

Guitar
Shannon Schmidt (Lead Vocals, and Tambourine): From Preble County, Ohio and works at the University of Cincinnati Office of Institutional Accessibility. She grew up and spent her adult life in love with singing country music influenced by the legendary female voices of Patsy Cline, Dolly Parton, Patty Loveless, and Martina McBride to name a few. In 2019 she won the Get the Gig contest at JD Legends in Franklin, Oh in an acoustic duo. Even though she's only been singing out on stage for audiences for a few years, she hopes to be doing so til she dies! She currently resides in Hamilton, Oh with her husband and horses and has two daughters attending college